Sung by 19-year-old rookie voice actress Yurika Endoh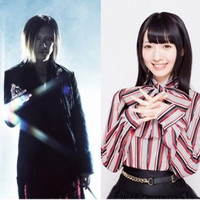 It is revealed today that HISASHI, the lead guitarist of the popular Japanese rock band GLAY, writes, composes, produces, and plays all of the instruments for the ED theme song for the 2014 winter TV anime Z/X IGNITION. The song "Monochrome Overdrive" will be 19-year-old rookie voice actress Yurika Endoh's solo debut single. She also voices Aina Mikage in the anime.
Endoh won the Grand Prix at the 2nd Ponycan Koetama Grand Prix Audition early this year and formed a voice actress idol unit YURI*KARI with the winner of the 1st Koetama audition Karin Takahashi. The unit released its 1st single "Kimi to Futari," the ED theme for the 2013 TV anime The Severing Crime Edge, on April 17, 2013. "Monochrome Overdrive" is the first anime theme song by HISASHI and it is also the first time for him to write a song for anime voice actors/actresses in his career. The single will be released on February 5, 2014 and the Z/X IGNITION TV anime is scheduled to be premiere in Japan
on January 9.
HISASHI and Yurika Endoh
Yurika Endoh
YURI*KARI 1st single "Kimi to Futari" CD jacket
"Z/X IGNITION" key visual
Source: Oricon Style
© Pony Canyon
© Z/X IGNITION Production Committe