No change in the voice cast team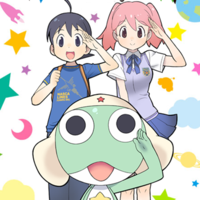 It is officially announced at the "Keroro Birthday & New Project Presentation" event in Tokyo today that a new TV anime series based on Mine Yoshizaki's Sgt. Frog/Keroro Gunsou manga will start airing on the anime specialized satellite/cable channel Animax in spring 2014. The new series is simply titled Keroro. The original voice cast team will reprise their roles, except Tomoko Kawakami, the first voice actress for Fuyuki Hinata, who past away from ovarian cancer in June 2011. Houko Kuwashima, the second voice actress after the 232nd episode, will voice Fuyuki in the new series. The 357-episode first TV anime series was aired in Japan from April 2004 to April 2011.
Sunrise, which had worked on the past Keroro anime TV/film series, again produces the 2014 series in cooperation with the Flash animation company Gathering. Haruki Kasugamori (storyboards on Rock Lee & His Ninja Pals, Puchimas! Petit Idolmaster) serves as the series director.
The announced voice cast for the new series:
Sergeant Keroro: Kumiko Watanabe
Fuyuki Hinata: Houko Kuwashima
Natsumi Hinata: Chiwa Saito
Private Second Class Tamama: Etsuko Kozakura
Corporal Giroro: Jouji Nakata
Sergeant Major Kululu: Takehito Koyasu
Lance Corporal Dororo: Takeshi Kusao
Source: Comic Natalie
© 2014 Mine Yoshizaki / KADOKAWA,SUNRISE