Opens May 16th, 2014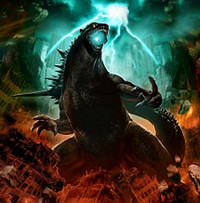 Legendary Pictures has just unleashed a new trailer for next year's highly anticipated Godzilla film with more footage than ever before. The results look pretty spectacular and serious (no wisecracks or SIZE MATTERS taglines here) as the military, scientists, and ordinary Joes and Janes like you and me must contend with the super destructive force of... GODZILLA! Watch below.
As for the Big G himself, we still aren't seeing much. I guess we will have to wait until the film opens on May 16, 2014, to see if he dances a little jig just like his Japanese namesake.
---------
Patrick Macias is editor in chief of Crunchyroll News. He is also the editor of Otaku USA magazine. Check out his blog at http://patrickmacias.blogs.com