With the voices by Yukana, Kana Hanazawa, Marina Inoue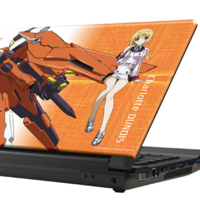 Ita-sha is the Japanese otaku term used for decorated cars with stickers of colorful anime/game characters. Following the same rule, decorated laptops are called "Ita-laptop." An Osaka-based PC retailer Unitcom will release new Ita-laptops/visualize note PCs featuring three heroines from the TV anime adaptations of Izuru Yumizuru's popular light novel series Infinite Stratos on December 31, 2013. The Windows 8 laptops with 15.6-Inch Full-HD liquid crystal display feature the color illustrations of Charlotte Dunois, Cecilia Alcott, and Laura Bodewig on their top plates. They also contain original wallpapers, desktop themes, and the heroines' newly-recorded voices by Yukana, Kana Hanazawa, and Marina Inoue. The price for Standard Model is 129,800 yen (about US$1,266) and for High Spec Model is 159,800 yen (US$1,558). Check the details below.
"Charlotte Dunois"
Standard Model (Core i3-3120M/1TB HDD/8GB/Blu-ray/GeForce GT 650M 1GB) 129,800 yen
High Spec Model (Core i7-3630QM/120GB SSD/1TB HDD/8GB/Blu-ray/GeForce GT 650M 1GB) 159,800 yen
"Cecilia Alcott"
"Laura Bodewig"
Source: Akiba Souken

© Izuru Yumizuru, OVERLAP/Project IS
©2011 Izuru Yumizuru, MEDIA FACTORY/Project IS