Based on the Japanese SF novel "All You Need is Kill"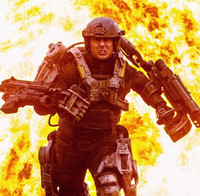 No, it's not Oblivion 2 or a reboot of Starship Troopers, we swear... Tom "Cocktail" Cruise is on an impossible mission to combat yet another alien invasion of earth in the new trailer for the upcoming blockbuster Edge of Tomorrow, based on the Japanese sci-fi novel All You Need is Kill by Hiroshi Sakurazaka.
The film, due for release on June 6, 2014, is a British/US co-production and is directed by Doug Liman (Swingers, The Bourne Identity). The new trailer for the reported $140 million flick went online earlier today. If you feel like you've seen it all before...maybe that's the plan?
The preview doesn't do the clearest job in the world of explaining the plot, so here's the official synopsis :
The epic action of "Edge of Tomorrow" unfolds in a near future in which an alien race has hit the Earth in an unrelenting assault, unbeatable by any military unit in the world. Lt. Col. Bill Cage (Cruise) is an officer who has never seen a day of combat when he is unceremoniously dropped into what amounts to little more than a suicide mission. Killed within minutes, Cage now finds himself inexplicably thrown into a time loop—forcing him to live out the same brutal combat over and over, fighting and dying again…and again. But with each battle, Cage becomes able to engage the adversaries with increasing skill, alongside Special Forces warrior Rita Vrataski (Blunt). And, as Cage and Rita take the fight to the aliens, each repeated encounter gets them one step closer to defeating the enemy.
Compare and contrast to the sales text for the original All You Need is Kill novel available from Viz's Haikasoru imprint.
There's one thing worse than dying. It's coming back to do it again and again… When the alien Gitai invade, Keiji Kiriya is just one of many raw recruits shoved into a suit of battle armor and sent out to kill. Keiji dies on the battlefield, only to find himself reborn each morning to fight and die again and again. On the 158th iteration though, he sees something different, something out of place: the female soldier known as the Bitch of War. Is the Bitch the key to Keiji's escape, or to his final death?
How faithful will the final product be to the original? I guess we will find out, with a large popcorn and Coke as our company, on 6.6.2014 when Edge of Tomorrow opens in theaters.
---------
Patrick Macias is editor in chief of Crunchyroll News. He is also the editor of Otaku USA magazine. Check out his blog at http://patrickmacias.blogs.com