On sale in March 2014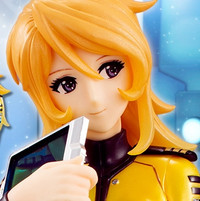 This work appeared as the newly remade series, based on the original "Space Battleship Yamato" which was first aired in 1974. From the "Yamato Girls Collection" of Bandai that rendered the female characters into "figures", Mori Yuki, the heroine of the Yamato crew has become a three-dimensional figure.
The height of her figure is approximately 220mm. You can enjoy her saluting pose, made possible by new modelling, as well as her two characteristic poses of the regular edition that went on sale before.
It retails for 8,130 yen, and will be released in March 2014.
Links:
Yamato Girls Collection Mori Yuki (saluting pose ver.)
Space Battleship Yamato 2199