The 1st chapter hits theaters on April 5, 2014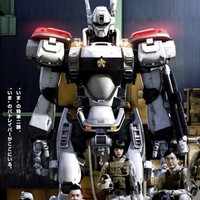 The first official poster for the upcoming Mobile Police Patlabor live-action project titled THE NEXT GENERATION -PATLABOR- is revealed to the Japanese media today. The poster features all of the main cast for the third generation members of the Police Special Vehicle Section 2 including Erina Mano who plays Akira Izumino, the forward pilot of AV-98 Ingram no. 1. The taglines say, "The live-action project has launched" and "Special Vehicle Section 2 of 'Now' and Patlabor of 'Now' are here."
And it is also announced that the first chapter which consists of the first two episodes of the thirteen-episode series hits theaters on April 5, 2014, followed by the second chapter on May 31, the third on July 12, the fourth on August 30, the fifth on October 18, the sixth on November 29, the seventh on January 10, 2015. The 100-minute feature film written/directed by Mamoru Oshii will be released in Golden Week (between the end of April and the beginning of May) of 2015.
The 1st poster for "THE NEXT GENERATION -PATLABOR-"
Latest Erina Mano at the event for her 2014 calendar
Source: Mantan Web, BARKS
© 2014 "THE NEXT GENERATION -PATLABOR-" Production Committee