Also talks about involvement with adaptation of Neil Gaiman's "Sandman"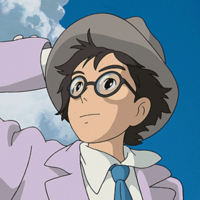 Fresh off Hayao Miyazaki's final anime movie The Wind Rises being nominated for the "Best Foreign Language Film" Golden Globe, actor Joseph Gordon-Levitt commented to USA and social media about voicing plane designer Jiro Horikoshi in the English dub of the film.
Miyazaki fan Gordon-Levitt told USA Today, "What I love about acting is becoming somebody else, and when you're just doing the voice and the animation is providing the visuals, you can really become someone else."
Gordon-Levitt feels The Wind Rises is "clearly the work of someone who's a master at their craft." And instead of imaginary creatures and worlds, "this one is more grounded in human beings and a historical moment in time," Gordon-Levitt says. However, "there's still a flavor of magic in it as you go inside the mind of this aeronautics engineer and you see him walking on the wings of airplanes in his dream."
RECording for Miyazaki's #TheWindRises. Not exaggerating, it's one of the most beautiful movies I've ever seen. http://t.co/v1YnK8kK8G

— Joseph Gordon-Levitt (@hitRECordJoe) December 17, 2013
RT @thedozenblades: "The Japanese voice actor for your character was mad genius Hideaki Anno, director of Evangelion." Yes his perf exclnt!

— Joseph Gordon-Levitt (@hitRECordJoe) December 17, 2013
Other cast members include:
Joseph Gordon-Levitt — main character Jiro Horikoshi
Emily Blunt — love interest Nahoko Satomi
John Krasinski — Honjo, Jiro's college pal and fellow aviation engineer
Martin Short — Kurokawa, Jiro's grumpy boss
Stanley Tucci — Caproni, Italian airplane creator
Mandy Patinkin — Hattori, senior designer at Mitsubishi
William H. Macy — Satomi, Nahoko's father
Werner Herzog — the mysterious Castorp
Mae Whitman — Kayo, Jiro's younger sister, as well as Kinu, Nahoko's caretaker
Jennifer Grey — Mrs. Kurokawa
Darren Criss — Katayama, one of Jiro's engineering colleagues
Elijah Wood — Sone, another of Jiro's colleagues
Ronan Farrow — Mitsubishi employee
The Wind Rises is set for limited release in North American theaters on February 21 and will expand a week later. Under the Touchstone Pictures banner, the film also played Oscar-qualifying engagements in New York and Los Angeles on November 8-14.
Gordon-Levitt also commented on his involvement with an adaptation of Neil Gaiman's Sandman comic. He'd been rumored to be directing.
Ladies and gentlemen, I'm incredibly honored to be working with David Goyer, Warner Bros, and @neilhimself on SANDMAN. #Prelude

— Joseph Gordon-Levitt (@hitRECordJoe) December 17, 2013
Just to clarify, folks. I've signed on as a producer on Sandman. The rest remains to be seen. Delighted you guys are excited. I am too!

— Joseph Gordon-Levitt (@hitRECordJoe) December 17, 2013
------
Scott Green is editor and reporter for anime and manga at geek entertainment site Ain't It Cool News. Follow him on Twitter at @aicnanime.