Followed by Kuroko, Magi, Aku no Hana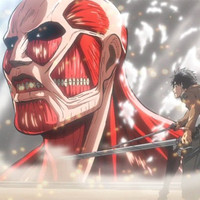 Once again it proves that 2013 is no doubt the year of Attack on Titan. Google Japan yesterday reported the keyword search ranking of this year. The most searched anime-related word by the Japanese Google users is, as you guess, "Attack on Titan." Also, Hayao Miyazaki's last anime feature film Kaze Tachinu (The Wind Rises) takes the top place in the movie word ranking and "PuzzDra" (Puzzle & Dragons) tops the game word ranking. Check the anime word top list below.
3. "Magi"
4. "Aku no Hana" (The Flowers of Evil)
6. "Hataraku Maou-sama!" (The Devil Is a Part-Timer!)
7. "Psycho-Pass"
8. "Dokidoki! PreCure"
9. "Kyoukai no Kanata" (Beyond the Boundary)
10. "Aikatsu!"
Source: INSIDE