Plus, new merchandise!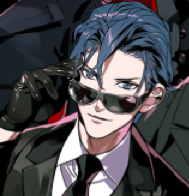 As previously reported, the Shining Theatrical Troupe spin-off from Uta No Prince Sama has three plays in production and the three companion poster images are now complete. Masquarade Mirage featuring Reiji, Ai and Natsuki was the first poster image revealed followed by the Ninja group by Sho, Masato, Otoya and Cecil, and the latest poster to be revealed is Team spy from Joker Trap.
Joker Trap poster featuring Tokiya Ichinose, Ranmaru Kurosaki, Camus and Ren Jinguji, above. According to the princes themselves on Twitter, although the release date of the drama CDs are set for Masquarade Mirage to go first, the actual performance dates are different and Joker Trap opened their performance first in the theater complex with 3 stages next to each other.
Sho Kurusu, Masato Hijirikawa, Otoya Ittoki and Cecil Aijima are rival ninjas in Tenka Muteki No Shinobi Michi
the drama CD for Masquerade Mirage is the first out of the three releases on Christmas Day and below is the merchandise available for both Masquerade Mirage and Ninja group.
Tradng Clear ticket files have 4 different designs and can be exclusively pre-ordered at Animate Japan for 500 yen each.
Animate Japan exclusive tin button set is 980 yen.
Broccoli store exclusive Masquerade Mirage tote bag is 3000 yen with yellow pattern inside.
Broccoli store exclusive Masquerade Mirage bag charm 1800 yen
Masquerade Mirage optional charms go perfectly with the bag charm. From top, Lazy, Ainzatz and Shino, they are 1200 yen each.
A3 Tapestry is 1200 yen.
Animate exclusive Trading Senja fuda for Ninja group for 500 yen.
Tenka Muteki No Shinobi Michi Cinci bag is exclusive at Broccoli stores for 1200 yen and it comes with the Japanese suger confection, Konpeitou.
Broccoli store exclusive Ninja strap braids image color of 4 featured princes for 1500 yen. Joker Trap merchandise has not been posted yet.