Mobile Suit Expo now open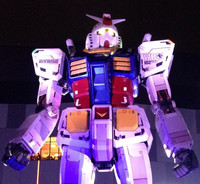 DiverCity Tokyo Plaza is a large-scale shopping & entertainment facility which includes Gundam Front Tokyo, a Gundam-world-experience-type-exhibition and its symbol, full-size Gundam. The lighting system was upgraded from existing equipment to a special limited version by mounting LED lights at its foot to make the Gundam lit up in a magical atmosphere.
Limited items, two types of "GFT Christmas Gift" are also sold at Gundam Front Tokyo parallel to this campaign. This Gift set contains popular official goods such as Gunplas and muffler towels. Do visit and check them out since these gift sets are only sold at Gundam Front Tokyo.
Moreover, "Mobile Suit Expo feat. GUNPLA" will be opened until 16th January 2014 in Gundam Front Tokyo as fifth memorable project for its first anniversary. This expo highlights mechanics which symbolizes all Gundam series and MS (mobile suit), including individual featuring corners at each MS components such as "head", "armors", "shields" and "backpacks".
Gundam light up is done at 5PM and 11PM every day until 13th January 2014.
Links:
GUNDAM FRONT TOKYO Official Website
GUNDAM. INFO gundam portal site