Starts Jan/5 at 10:30a.m. Pacific Time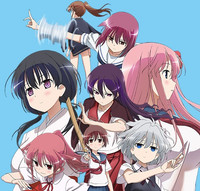 Baby, it's cold outside…which means that announcements for the winter season of anime are now upon us and Crunchyroll kicks things into gear with word that Saki – The Nationals will start streaming every Sunday starting on January 5, at 10:30a.m. Pacific Time for its premium members, with free members able to watch one week later. More information can be found on www.crunchyroll.com/saki.
Background
Saki – The Nationals is the third series in the mahjong-themed anime, continuing the National Tournament that was started in Saki Episode of Side A. Director Manabu Ono continues to direct the third entry, with Studio Gokumi, who also animated Saki Episode of Side A, returning as well for animation production.
The cast returns with Kana Ueda reprising her role as Saki Miyanaga, Ami Koshizumi starring as Nodaka Haramura, Jun Fukuyama as Kyotaro Suga, Rie Kugimiya as Yuuki Kataoka, Ryoko Shiraishi as Mako Someya, and Shizuka Itou as Hisa Takei. Miyuki Hashimoto will be singing the opening "New SPARKS!" and the ending song "Kono Te ga Kiseki wo Eranderu" will be performed by Himematsu High, Miyamori Girl's High, & Eisui All-Girls School.
Saki – The Nationals will be available to Crunchyroll's audience worldwide ex Japan. You can watch the previous epiodes of the series here on Crunchyroll as well.
STAND BY FOR EVEN MORE WINTER ANIME ANNOUNCEMENTS LATER TODAY!
---------
Patrick Macias is editor in chief of Crunchyroll News. He is also the editor of Otaku USA magazine. Check out his blog at http://patrickmacias.blogs.com