Gloomy Bear Sonico made by Taito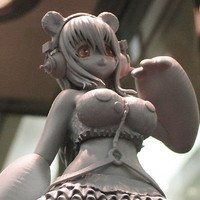 If we know anything about Super Sonico, it's that people love putting her in crazy outfits. This newest figure from Taito dresses her up like Gloomy Bear, all in the name of racing queen madness. We'd previously seen the unpainted version, but now we've got a (slightly blurry) look at the finished product.
Here's the unpainted prototype:
What do you think? Adorable or too much? Sound off in the comments!
Via Plastikitty
-------
Amanda Rush is the Associate Editor for Ani.Me and contributor for OtakuCollectionDX. She swears in the middle of the night on Twitter as @TheAnimaven.