The saga continues Tues/31 at 8:00am Pacific Time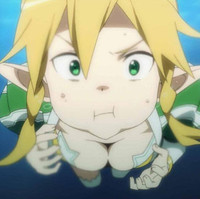 Leading into the Sword Art Online EXTRA EDITION, Dengeki Online and @sao_anime have been sharing preview images of the New Years special's original content.
Crunchyroll will be taking part in the worldwide simulcast of the Sword Art Online EXTRA EDITION New Year's special. Crunchyroll users will be able to enjoy this special episode right alongside all the other fans around the world on Tuesday, December 31, 2013 at 8:00am Pacific Time at http://www.crunchyroll.com/sword-art-online
Official synopsis
Kirito and the others decide to go on an underwater quest within the world of ALO to grant Yui her wish to see a whale. As they all prepare for the quest, they face a shocking revelation…Leafa, or Suguha is afraid of water. So, Asuna and the other female members decide to teach Suguha how to swim at a pool in the real world. Meanwhile, Kirito was meeting somebody…
Sword Art Online EXTRA EDITION will be available for Crunchyroll audiences in the following territories: North America, South America, United Kingdom, Ireland, Australia, New Zealand, and South Africa.
Get the early look at the return of Kirito, Asuna, Yui and company...
And along the lines of the swimsuit theme...