Starts Jan/6 at 9:00am Pacific Time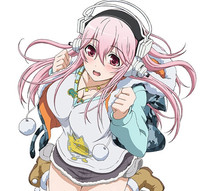 Today's hail of new announcements at Crunchyroll concludes with the word that the hotly anticipated series Soni-Ani SUPER SONICO THE ANIMATION is joining the winter simulcast season!
SUPER SONICO THE ANIMATION is set to broadcast every Monday starting on January 6, at 9:00am Pacific Time for its premium members, with free members able to watch one week later. More information can be found on www.crunchyroll.com/soniani
Background and story
An original anime based on gaming company Nitroplus' popular mascot, Sonico, Soni-Ani SUPER SONICO THE ANIMATION features the titular character in a comedic slice-of-life series. Sonico's backstory has her as a college student who somehow also manages to juggle being a model, game character, and a musician in a three-piece girl band as the vocalist and guitarist.
Voice actress Ayano Yamamoto, who also played Nae Tennoji from Steins;Gate, will be voicing Sonico, with Mai Goto, Mika Nogizaka in Nogizaka Haruka no Himitsu, starring as bassist Suzu Fujimi, and Mami Ozaki, Hana Isuzu in GIRLS und PANZER, rounds out the band as drummer Furi Watanuki.
Soni-Ani SUPER SONICO THE ANIMATION will be available to Crunchyroll's audience in the following territories: USA, Canada, UK, Ireland, South Africa, New Zealand, Australia, Scandinavia, the Netherlands, Latin America, Spain, Portugal, the Middle East, Turkey, Austria, Germany, Liechtenstein, Luxembourg, Switzerland, Belgium, Italy, Denmark, Poland, Czech Republic, Hungary, Romania, France, and DOM-TOM, Andorra, Netherlands, Algeria, Tunisia, and Morocco.
---------
Patrick Macias is editor in chief of Crunchyroll News. He is also the editor of Otaku USA magazine. Check out his blog at http://patrickmacias.blogs.com