Starts January 4 at 10:00 am Pacific Time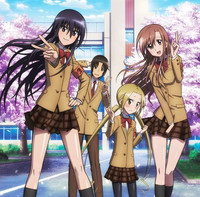 New Year's Eve and new anime announcements seem to be going hand in hand here today at Crunchyroll, and the next simulcast to crow about is season two of the school comedy SEITOKAI YAKUINDOMO based on the manga by Tozen Ujiie.
SEITOKAI YAKUINDOMO SEASON 2, which is set to broadcast every Saturday starting on January 4 at 10:00 am Pacific Time for its premium members. Free users will be able to view this series one (1) week after initial broadcast on Crunchyroll. More information can be found on www.crunchyroll.com/seitokai
Story
"Our story here circulates around the Osai Academy, formerly an all-girls private high school which has recently been integrated for both genders. Our protagonist, Takatoshi Tsuda is pushed into becoming the vice-president of the student council, where he is the lone male member surrounded by 3 beautiful girls."
SEITOKAI YAKUINDOMO SEASON 2 will be available to users in the following territories: U.S.A, Canada, United Kingdom, Ireland, South Africa, Australia, New Zealand, Finland, Norway, Sweden, Iceland, Denmark, Netherlands, and Central and South America.
---------
Patrick Macias is editor in chief of Crunchyroll News. He is also the editor of Otaku USA magazine. Check out his blog at http://patrickmacias.blogs.com