4th single "Fight 4 Real" hits stores on January 29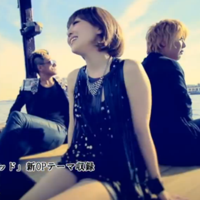 Warner Japan's YouTube anime channel has posed a short promotional video for three-member unit ALTIMA's upcoming 4th single "Fight 4 Real," the second OP song for the Strike the Blood TV anime. The PV was filmed in Dubai, the United Arab Emirates.
The unit was formed by singer Maon Kurosaki, rapper Motsu (ex-m.o.v.e) and producer SAT (fripSide) in 2011, and has so far released three singles including "I'll believe" (Shakugan no Shana Ⅲ -FINAL- 1st ED) and "BURST THE GRAVITY" (Accel World 2nd OP). The 4th single "Fight 4 Real" will be released in Japan on January 29 and featured as the OP theme for the anime from this month. And Kanon Wakeshima's 4th single "signal" will be used as the second ED theme as well.
The Strike the Blood TV anime is now available to Crunchyroll audiences in North America, UK, Ireland, Australia, New Zealand, Netherlands, Scandinavia, South Africa, Central America, South America, Caribbean, Turkey, Italy, Austria, Germany, Lichtenstein, Luxembourg, Switzerland, Belgium, Poland, Denmark, Czech Republic, Hungary, and Romania.
"Fight 4 Real" short PV
Limited edition
Regular edition
© 2011 Warner Bros. Entertainment Inc.