The 1st entry from "Dokidoki! PreCure!" will be released in May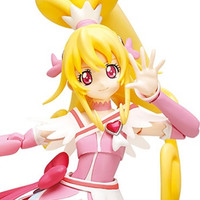 Bandai has revealed the details of S.H. Figuarts Cure Heart, the first posable character figure from the on-going TV anime DokiDoki! PreCure. The company has so far produced three PreCure figures from the S.H. Figuarts line; Cure Peace, Cure Happy, and Cure Beauty of the 2012-2013 series Smile PreCure!. The set includes a 150mm-tall Cure Heart figure, her weapon Love Heart Arrow, and her fairy Sharuru. The suggested retail price for the set is 4,860 yen (about US$46.16) and the scheduled release day is in May 2014. The Japanese retailers will start accepting pre-orders for it next week on January 7.
DokiDoki! PreCure is the 10th installment of Toei Animation's long-running PreCure series and has become one of the most successful PreCure TV anime. The final (49th) episode will be aired in Japan on January 26.
S.H. Figuarts Cure Peace (August 2013)
S.H. Figuarts Cure Happy (September 2013)
S.H. Figuarts Cure Beauty (January 2014)
You can check more information about Bandai's PreCure figures at PreCureArts.
© ABC/Toei Animation