Starts Jan/9 at 9:30a.m. Pacific Time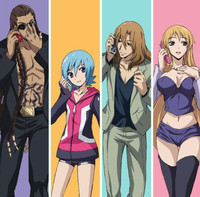 Winter 2014 is shaping up to be another banner season of anime at Crunchyroll as Strange+, based on the comedy manga by Mikawa Verno is set to begin streaming soon
Strange+ is set to broadcast every Thursday starting on January 9, at 9:30a.m. Pacific Time for its premium members, with free members able to watch one week later. More information can be found on www.crunchyroll.com/strangeplus.
Story and background
Based on an original manga written and illustrated by Beruno Mikawa, Strange+ is a comedic slice-of-life anime with a dash of mystery thrown in as well, focused on a boy named Kou who's searching for his brother Takumi. However, once finding him, it appears that Takumi has started his own detective agency and has no intention of going home, and so Kou decides to join his brother in the agency as well.

The cast features veteran voice actor Tomokazu Seki, known for his roles as Archer in Fate/Zero and Rob Lucci in One Piece, as Kou, another well-known voice actor Jun Fukuyama, Shinra Kishitani in Durarara!! and The Hero from Maoyu, as Takumi, Ryotaro Okiayu, also known as Akio Furukawa from Clannad and Scar from the Fullmetal Alchemist series, as Masamune, and Satsuki Yukino, who voiced Miho Amakata from Free! – Iwatobi Swim Club and Kagome Higurashi from Inuyasha, as Miwa.
Strange+ will be available to Crunchyroll's worldwide ex Japan.
---------
Patrick Macias is editor in chief of Crunchyroll News. He is also the editor of Otaku USA magazine. Check out his Tumblr at japanesefashioninferno.tumblr.com.