Starts Jan/8 at 11:15 am Pacific Time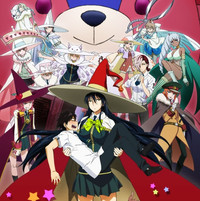 A day of new anime announcements at Crunchyroll winds down as Witch Craft Works, based on the manga by Ryu Mizunagi and featuring animation production by J.C. Staff (Little Busters, The Pet Girl of Sakurasou), is set to join the winter 2014 season.
Witch Craft Works is set to broadcast every Wednesday starting on January 8 at 11:15 am Pacific Time for its premium members. Free users will be able to view this series one (1) week after initial broadcast on Crunchyroll. More information can be found on www.crunchyroll.com/witchcraft.
Story
"Takamiya Honoka is just an average student who just so happens to sit next to Kagari Ayaka, the "Princess" of the school, and has never said a word to her. However, one day when Takamiya's life is put in danger, Kagari arrives to his rescue dressed as a witch. It is revealed that Kagari is what is known as a Workshop Witch within the city and Takamiya is under her protection and shall henceforth protect him from any danger that ensues..."
WITCH CRAFT WORKS will be available to users in the following territories: U.S.A, Canada, United Kingdom, Ireland, South Africa, Australia, New Zealand, Finland, Norway, Sweden, Iceland, Denmark, and Central and South America.
---------
Patrick Macias is editor in chief of Crunchyroll News. He is also the editor of Otaku USA magazine. Check out his Tumblr at japanesefashioninferno.tumblr.com.