Starts Jan/9 at 12:30p.m. Pacific Time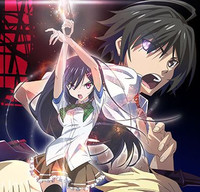 Prepare yourself for battle! Magical Warfare, based on the light novel series by Hisashi Suzuki and illustrated by Lunalia and featuring animation from Japan's famed studio Madhouse (Hunter x Hunter) is about to erupt on Crunchyroll's winter simulcast slate.
Magical Warfare is set to broadcast every Thursday starting on January 9, at 12:30p.m. Pacific Time for its premium members, with free members able to watch one week later. More information can be found on www.crunchyroll.com/magicwar.
Story
In this modern magic action story, Takeshi Nanase is an ordinary high school boy who has a somewhat dark past. Due to certain circumstances, he formed a "fake" couple with his childhood friend Kurumi Isoshima, but otherwise, he lives a normal life. However, one day, he comes across a girl named Mui Aiba, in a uniform he has never seen before, collapsed on the school campus. This encounters changes Takeshi's destiny completely. Mui tells Takeshi that she is a magician, and she apologizes, for she turned Takeshi into a magician, too. What Takeshi once knew as one world is actually two — one world where magicians live and the other world where humans live.
Magical Warfare will be available to Crunchyroll's audience in the following territories: USA, Canada, UK, Ireland, South Africa, Australia, and New Zealand.
---------
Patrick Macias is editor in chief of Crunchyroll News. He is also the editor of Otaku USA magazine. Check out his Tumblr at japanesefashioninferno.tumblr.com.