Starts Jan/8 at 12:00 pm Pacific Time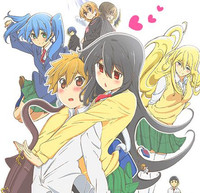 In the mood for even more anime to watch this winter season? Good! Crunchyroll will soon be adding the comedic ONEE-CHAN GA KITA, based on the 4-panel manga by Riko Anzai, to the streaming lineup!
ONEE-CHAN GA KITA is set to broadcast every Wednesday starting on January 8 at 12:00 pm Pacific Time for its premium members. Free users will be able to view this series one (1) week after initial broadcast on Crunchyroll. More information can be found on www.crunchyroll.com/oneechan.
Background and story
Originally a 4-panel comic strip in Takeshobo's Manga Life magazine, ONEE-CHAN GA KITA will feature the voice talents of Aimi Terakawa, notably known for her roles as Emi in HENNEKO and Suiko in Cardfight!! Vanguard, and Juri Nagatsuma, whose roles include Kanna from Tamako Market and Zenigata from The Severing Crime Edge.
"Tomoya's father remarries to another woman, giving him a stepsister, Ichika. However Ichika is 17-years old and has completely fallen in love with her stepbrother who is only 13!! Families will collide in the most unusual fashion this season, in the new anime short: ONEE-CHAN GA KITA!"
ONEE-CHAN GA KITA will be available to users all around the world except in Japan.
---------
Patrick Macias is editor in chief of Crunchyroll News. He is also the editor of Otaku USA magazine. Check out his Tumblr at japanesefashioninferno.tumblr.com.