11th PreCure TV anime series will premiere on February 2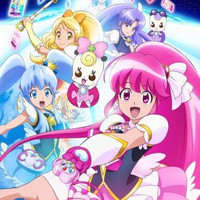 The official site of the highly-anticipated upcoming TV anime Happinesscharge PreCure! revealed its four main voice actresses today. Megumi Nakajima, who is best known as the character/singing voice of Ranka Lee in Macross Frontier, plays the protagonist character Megumi Aino/Cure Lovely, who has the same first name with her. Nakajima recently announced that she will stop her musical activities as of March 31, 2014. Probably she will focus on only her voice actress activities after that.
Megumi Han, who is currently voicing Gon Freecss in Hunter x Nunter and Chiari Tsukikage in Jewelpet Happiness, plays Hime Shirayuki/Cure Princess. Haruka Tomatsu, a member of voice actress idol unit Sphere, plays the mysterious third PreCure girl Cure Fortune.
And 52-year-old veteran Naoko Matsui voices Ribbon, the partner fairy for Cure Lovely and Cure Princess.
She previously played Ms. Shitataare, one of the villains in the third PreCure TV anime Futari wa PreCure
Splash Star (2006-2007), and one of the most famous anime characters played by her is probably Roux
Louka in Mobile Suit Gundam ZZ (1986-1987). The 11th PreCure TV anime Happinesscharge PreCure!
will start airing in Japan on February 2, following the on-going series Dokidoki! PreCure.
Megumi Nakajima/Cure Lovely
Megumi Han/Cure Princess
Haruka Tomatsu/Cure Fortune
Naoko Matsui/Ribbon
The poster visual
Related:
"Happinesscharge PreCure!" Characters Officially Revealed
Ex-AKB48 Member Sayaka Nakaya Sings "Happinesscharge PreCure!" OP Song
Source: Mantan Web
© ABC, Toei Animation