Creative Freaks have announced that Burn Fat With Me For Girls will soon be available in English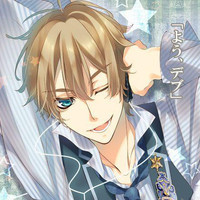 Remember Watamote's "Yandere Boys' Verbal Abuse" CD? Well, soon, you'll be able to get the fitness smartphone app equivalent. Already, Japanese ladies can be encouraged with comments like "You know, there's a limit for plumpy?" "Hey, fattie" and "You're not eating too much, are you.. for God sake." But, developers Creative Freaks have announced that Burn Fat With Me For Girls will soon be available in English.
Nensho For Girls features ab exercise instructions, but also aims to focus more on the motivation than guiding the specific exercises as compared to traditional fitness apps.
Characters include
Touma Maizono
Same grade with heroine(user).a model student who is good looking, smart, also good at sports. He was born with gifts, basiclly good at everything. Especially his physical ability is world standard. He once rewarded as attending the world junior dance contest representing Japan.
Kei katsuragi
One grade upper than our heroine(user).famous actor of troupe "kiageha",an honor of the Otori art academy.He's hugely popular not only because of his good looking but also his extraodinary physical ability. His family owns a diner in the countryside, so he's really good at cooking by helping them a lot.
Ryuji Siba
Teacher of the school which our heroine(user) goes to. Also the director of 'kiageha' the school troupe. He was an actor when he's younger, and once a "best-seller" while both good at acting and script writing. He quit the entertainment world for some reason. Started teaching and directing in this school by a friend's connection.
Story
This fall, a new version of the original e "moétivation" tool hit Japan with three bishoujo, your childhood friend, an outspoken tomboy and the school's hot class president/gymnast, now encouraging male otaku to get jogging.
The new smartphone app will plot a course on your 2D surrogate's world, then, as you run, it will use the phone's GPS to show your position relative to the girl running with you and as she voices encouraging comments. Events will unlock based on on your progress.
------
Scott Green is editor and reporter for anime and manga at geek entertainment site Ain't It Cool News. Follow him on Twitter at @aicnanime.