Starts today, Jan/5, at 5:00 pm Pacific Time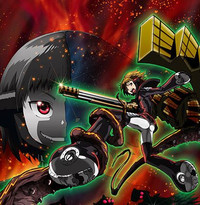 Just when you think new anime announcements at Crunchyroll have calmed down for the weekend, along comes the word that NOBUNAGUN, based on the manga by Masato Hisa, is about to begin streaming shortly...in about an hour in fact!
NOBUNAGUN is set to broadcast every Sunday starting on January 5 at 5:00 pm Pacific Time for its premium members. Free users will be able to view this series one (1) week after initial broadcast on Crunchyroll. More information can be found on www.crunchyroll.com/nobunagun.
Story
"Shio Ogura, a seemingly normal Japanese high school student, who, while visiting Taiwan on a school trip, is suddenly attacked by monsters. Agents known as "E-Gene Holders" from the government agency DOGOO also arrive, who wield weapons infused with the spirits of historical figures. However in the midst of it all, Shio is revealed to also be an E-Gene Holder when the soul of Oda Nobunaga awakens after she tries to rescue a friend."
NOBUNAGUN will be available to users in the following territories: North America, South America, United Kingdom, Ireland, South Africa, Australia, New Zealand, Finland, Norway, Sweden, Demark, Iceland, Netherlands, Turkey, Spain, and Portugal.
---------
Patrick Macias is editor in chief of Crunchyroll News. He is also the editor of Otaku USA magazine. Check out his Tumblr at japanesefashioninferno.tumblr.com.