The same voice actors with the game reprise their characters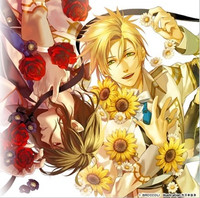 The official site for the upcoming TV anime adaptation of Nippon Ichi Software and Broccoli's 2013 popular otome game Kamigami no Asobi: Ludere deorum has posted the first promotional video. The PV was first screened at Winter Comiket on December 29-31, 2013. The TV anime is produced by Brain's Base (Natsume Yujincho, Brothers Conflict) and is scheduled to be premiered in Japan in spring 2014. The same voice actors with the PSP game including Miyu Irino (Apollon Agana Berea) and Daisuke Ono (Hades Idoneus) will reprise their characters in the anime.
The voice cast for the protagonist girl Yui Kusanagi, who doesn't have her voice in the game, has not been announced yet. The story centers around the ordinary high school girl Yui, who is unexpectedly invited to the god's world ruled by the Greek god Zeus. Upon his request, she starts her school life with
various young gods to teach them what human is, and what love is.
The voice cast:
Miyu Irino: Apollon Agana Berea
Daisuke Ono: Hades Idoneus
Yuuto Uemura: Tsukito Totsuka
Toshiyuki Toyonaga: Takeru Totsuka
Hiroshi Kamiya: Baldr Hringhorni
Yoshimasa Hosoya: Loki Leviathan
Yuuki Kaji: Anubis Ma'at
Toshiyuki Morikawa: Thoth Caduceus
via: Otalab
(C)BROCCOLI/KamiAso Production Committee