Art series now running in Dengeki Daioh magazine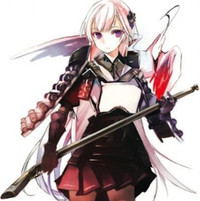 Each "castle princess" will be drawn in both normal and "captured" versions, the latter of which reflects a castle at the end of a siege by shredding the character's clothing for added sex appeal.
January's castle will be one of Japan's most famous, Himeji Castle, and will be illustrated by Shunsei. February will bring Koriyama Castle, illustrated by cccpo. More castles and illustrators are planned for the future, and the series is designed to appeal even to readers who are unfamiliar with the castles of Japan.
In addition, the magazine is currently soliciting game designers, hoping to produce a game based on the characters, similar to popular browser-based, anthropomorphic, female battleship game "Kantai Collection".
Link:
Monthly Comic Dengeki Daioh Shirohime Quest