Illustrated by the character designer of the "Nisekoi" anime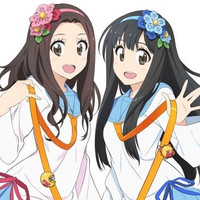 With the release of their latest/9th single "CLICK" on January 29, anison duo of two high school girls from Hokkaido, ClariS, revealed their new character images. The song will be featured as the OP theme for the 2014 winter TV anime Nisekoi. The anime's character designer Nobuhiro Sugiyama drew the original art and the production company Shaft finished up the images. ClariS' character images were previously drawn by Hiroyuki Oda/Hiro Kanzaki for 1st single "irony" and 7th single "reunion," Ume Aoki for 2nd single "Connect," Mel Kishida for 3rd single "nexus," Akio Watanabe for 4th single "Naishi no Hanashi," Satomi Higuchi for 5th single "Wake Up," Hideyuki Morioka&Shaft for 6th single "Luminus" and 8th single "Colorful."
ClariS' new character images
In order to protect their privacy as school students, the two member of ClariS, Clara and Alice, have never
released photos of themselves to the public and performed in the presence of other people. They held a
voluntary event titled "2014 New Year's Festival Hajimari no Yokan" at Zepp Tokyo on January 5. In the
end of the event, the two finally appeared on the stage to sing their 7th single "reunion," but accoding to
the report, only things the crowded fans could see were the two's silhouettes on the curtain.
Source: Natalie