The moviegoers will receive "HEROES COLUMN CARD"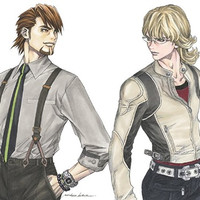 The official site for the highly-anticipated film Tiger & Bunny -The Rising- today revealed the visual for the third advance pair ticket featuring an illustration of Kotetsu and Barnaby, which is newly drawn by the original character designer Masakazu Katsura. The limited pair ticket goes on sale in Japan on January 18. The first pair ticket features Barnaby and a new character for the film Ryan Goldsmith, and the second features Wild Tiger and Lunatic facing each other.
And it was also announced that the moviegoers will receive one of "HEROES COLUMN CARD," a series of cards contains new original stories about the heroes written by the main writer of the series Masafumi Nishida. A different card will be handed out each week, it means that the fans who want to complete the card set have to go to theaters every week till the campaign ended. The film which is set on a few months after the story of the TV series ended is scheduled to be released in Japan on
February 8.
The third advance pair thiket
The first and second advance pair ticket
The poster visual
Source: Comic Natalie
© SUNRISE/T&B MOVIE PARTNERS