Starts Jan/11 at 9:00 am Pacific Time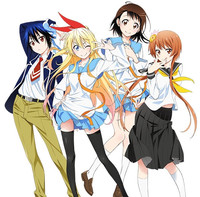 False love is about to blossom during the winter 2014 anime season as NISEKOI, based on the manga by Naoshi Komi, is set to begin streaming on Crunchyroll every Saturday starting on January 11 at 9:00 am Pacific Time for its premium members. Free users will be able to view this series one (1) week after initial broadcast on Crunchyroll. More information can be found on www.crunchyroll.com/nisekoi.
Background and story
Originally published just once in Jump NEXT!, NISEKOI has exploded out the gates since with a full serialization in Weekly Shonen Jump, and now an anime series for the winter 2014 season. Our protagonists – Raku Ichijo and Chitoge Kirasaki – will be respectively portrayed by the talented Kouki Uchiyama (Yu-Gi-Oh, Infinite Stratos, Hunter x Hunter) and Nao Toyama (The World God Only Knows, Arpeggio of Blue Steel, My Teen Romantic Comedy SNAFU).
"Raku Ichijo is an average high school student. He also happens to be the sole heir to the head of a Yakuza Family called the Shuei-gumi. 10 years ago, Raku made a promise… a secret promise with a girl he met. They promised one another that they will "get married when they reunite." Since then, Raku never let go of the pendant the girl gave him.
Then one day, a beautiful girl named Chitoge Kirisaki transfers into Raku's class. Their chemistry was more than off. There was not a moment where they were not fighting. But, by a weird turn of events…Raku and Chitoge agree to become fake lovers. Although his heart is really interested in his classmate Kosaki Onodera…Raku must continue pretending to be Chitoge's boyfriend.
How far will you go for a love that is truly fake? Which girl holds the key to Raku's pendant and to his heart?"
NISEKOI will be available to users in the following territories: North America, South America, and South Africa.
---------
Patrick Macias is editor in chief of Crunchyroll News. He is also the editor of Otaku USA magazine. Check out his Tumblr at japanesefashioninferno.tumblr.com.