Starts Jan/12 at 10:00am Pacific Time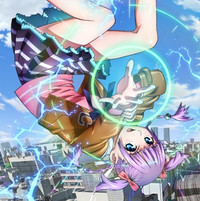 Today's volley of new anime announcements comes to a close with word that Wizard Barristers, the newest project from Yasuomi Umetsu, of Kite and Megazone 23 Part II fame, will begin streaming soon.
Wizard Barristers is set to broadcast every Sunday starting on January 12, at 10:00am Pacific Time for its premium members, with free members able to watch one week later. More information can be found on www.crunchyroll.com/barristers.
Story and background
Wizard Barristers takes place in the near future of 2018, where wizards and humans live side-by-side in Tokyo. While police continue to protect the rest of society, wizards are tried according to magical laws in special courts defended by wizard barristers. Cecile Sudo has just become the youngest wizard barrister at age 17, and begins work at the Butterfly Law Offices. However, unbeknownst to her, she has tremendous magical potential…
Director Yasuomi Umetsu, whose other works include the recent Galilei Donna, will be helming the series, which is being animated by ARMS, also known for their work on titles like Elfen Leid and Samurai Bride. Meanwhile the opening theme is being performed by anisong singer Lia, called "Justia," with relative newcomer Rui Tanabe not only performing the ending theme, "Blue Topaz," but also voicing the main character Cecile as well.
Wizard Barristers will be available to Crunchyroll's audience in the following territories: USA, Canada, UK, Ireland, South Africa, Australia New Zealand, Scandinavia, the Netherlands, Turkey, Latin America, Italy, Spain, Portugal, and the Middle East.
---------
Patrick Macias is editor in chief of Crunchyroll News. He is also the editor of Otaku USA magazine. Check out his Tumblr at japanesefashioninferno.tumblr.com.