Starts Jan/11 at 9:30 am Pacific Time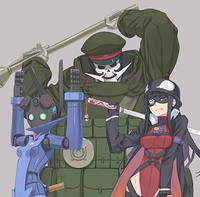 If you guessed that today would bring another round of new anime announcements at Crunchyroll… you'd be right! World Conquest Zvezda Plot, a new series from A-1 Pictures (the home of Sword Art Online and Blue Exorcist) with globalist ambitions, will soon begin streaming. Read on for more details!
World Conquest Zvezda Plot is set to broadcast every Saturday starting on January 11 at 9:30 am Pacific Time for premium members. Free users will be able to view this series one (1) week after initial broadcast on Crunchyroll. More information can be found on www.crunchyroll.com/zvezda.
Background and story
From A-1 Pictures (Sword Art Online, Black Butler) and directed by Tensai Okamura (Blue Exorcist, Darker than Black), WORLD CONQUEST ZVEZDA PLOT will feature the voice talents of Misaki Kuno (Log Horizon, Galilei Donna) and Natsuki Hanae (Nagi no Asukara, Ace of the Diamond).
"What does it take to CONQUER THE WORLD?! Every leader of the past has thought of it… but all they have done was to merely dream of its greatness. World domination…nobody has been able to achieve it. Until one little girl by the name of Kate Hoshimiya came along. Kate Hoshimiya will shock the world!
How was she was able to carry out such a MAGNIFICENT stunt? So FRIGHTFUL! So GLORIOUS! Could this be…the ZVEZDA PLOT?! Let the light of our great ZVEZDA shine upon this land far and wide!"
World Conquest Zvezda Plot will be available to users in the following territories: North America, South America, European regions (except UK, IE, French and German speaking regions - sorry guys), Middle East, Arab League (including Israel), and South Africa
---------
Patrick Macias is editor in chief of Crunchyroll News. He is also the editor of Otaku USA magazine. Check out his Tumblr at japanesefashioninferno.tumblr.com.