Featuring a new illustration by Takami Akai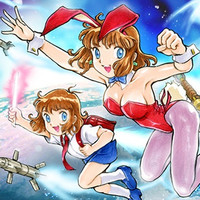 As previously reported, Gainax revealed the details of Daicon Film's 33rd anniversary project named "DAICON FILM 33" on January 8. The concept of the project is "revival of DAICON FILM" and it plans to release various goods inspired by their films in 1980s. The project's official site has started accepting pre-orders for the first lineup of the memorial goods including a towel and clear file featuring the girls from the famous Daicon Ⅲ & Ⅳ opening animations. The illustration is newly drawn by Takami Akai, the character designer of the opening animation films and one of the founders of Gainax. The illustration is now also displayed on the top page of Gainax's official site.
The project is also offering an iPhone case, tote bag, and mug cup featuring Daicon Ⅲ arts. They are collaboration goods with a culture select shop CINRA.STORE designed by MEMO, who is known for his single jacket illustrations for Japanese singer tofubeats (Siuisei EP, Don't stop the music).
A-3 size poster (840 yen: available only at Zenepro Tsuhan)
Face towel (84x80 cm 1,890 yen)
A4- size Clear file (525 yen)
Collaboration goods with CINRA.STORE
iPhone case (3,675 yen)
Tote bag (2,940 yen)
Mag cup (1,890 yen)
Source: Gainax.net
© DAICON FILM