Directed by Munehisa Sakai (One Piece Film: Strong World)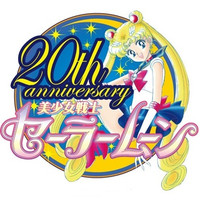 The official site for the 20th anniversary project for the Pretty Guardian Sailor Moon franchise finally announced today that the highly anticipated new anime series will be streamed worldwide via Nico Nico Douga from this July. It was originally planned to start in the summer of 2013, then postponed to the winter of 2013-2014. Let's hope this is the last change.
As expected, the new anime is produced by Toei Animation, the same company worked on the five mid-1990s anime series. 42-year-old Munehisa Sakai, who worked on the One Piece TV anime series (2006-2008), One Piece Film: Strong World (2009), and Suite PreCure♪ (2011-2012), the eighth installment of the PreCure TV series, serves as the director. Also 34-year-old Yuji Kobayashi (Ultraman Mebius, Suite PreCure♪, Saint Seiya Omega) works on series composition. And as announced last summer, five-member idol group Momoiro Clover Z will perform the OP/ED theme songs.
According to the produer Atsutoshi Umezawa, the new series is not a remake of the past anime series,
it is a project to animate Takeuchi's manga story anew from scratch.
Sailor Moon 20th anniversary project logo
Source: Sailor Moon 20th anniversary project official site, Akiba Souken
© Naoko Takeuchi, PNP, Toei Animation
© Naoko Takeuchi, PNP/Kodansha, Nelke Planning, Dwango