Event held from Dec/29 - Dec/31, 2013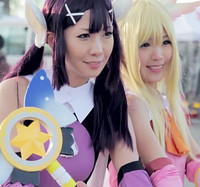 Japan's massive Winter Comic Market convention wrapped up last week at Tokyo Big Sight just before the New Year's holiday, but the videographers of Netageo are now keeping the memories alive via their series pro-shot videos that show off the state of the art, the wackiness, and the creativity of Japanese cosplay. We previously posted about the first of their reports here, but three more clips have since been released. Watch 'em below!
---------
Patrick Macias is editor in chief of Crunchyroll News. He is also the editor of Otaku USA magazine. Check out his Tumblr at japanesefashioninferno.tumblr.com.