5 guys who transform into magical girls without changing their faces, bodies, or ages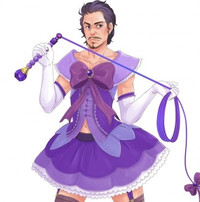 The drama CD's official site opened on December 21st, ahead of its release, and quickly gained attention due to its unique characters and story, as well as its cast of well-known voice actors.'
The drama CD tells the story of 55-year-old Satoshi Yoshikawa, the second president of Yoshikawa Industries, who forms a magical girl group at the insistence of his granddaughter, Ayaka. Also part of the team are 52-year-old Shuntaro Iida, who has been employed at Yoshikawa Industries for 33 years and is nearing retirement; 33-year-old Ryota Soejima, who recently joined the company; 47-year-old enthusiastic salesman Naosuke Katada; and 42-year-old designer Haruka Inoue, the president of Inoue Graphics, a company that frequently deals with Yoshikawa Industries. When Katada brings back a magical rock from a business trip to Istanbul, the 5 gain the powers and costumes of magical girls without changing their faces, bodies, or ages.
An experienced cast of voice actors has been assembled for the drama CD. The role of Yoshikawa (known as "President Innovation" when in his magical girl form) is voiced by Joji Nakata, Iida ("Sunshine by the Window") is voiced by Toshihiko Seki, Soejima ("Mid-Career Recruit Catharsis") is voiced by Daisuke Namikawa, Katada ("Global Sales Department Head") is voiced by Kazuya Nakai, and Inoue ("Venture Inoue") is voiced by Yasunori Matsumoto. The role of Elizabeth, Soejima's pet cat, is played by Akira Ishida.
Additional information about the CD, including its release date, will be made available at the project's official site.
Link: Maho Chunen Ojimajo 5