Attack on 4 year-olds!!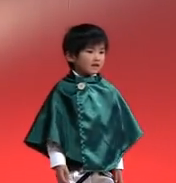 Are we sick of the Attack On Titan opening theme, Guren No Yumiya by Linked Horizon yet? Besides the sea of MAD videos, different versions and Linked Horizon performing the original song at the prestegious Kohaku Utagassen at the end of 2013, I thought there would be no more Guren No Yumiya performances, but I was wrong! Check out the cutest Survey Corps performers at Koyo Nursery School dancing to the song on stage!
The perfomance by the boys in the 4-year-old class was first posted on December 18, 2013, from the end of the year Otanoshimi Kai at the nursery school in Oita prefecture. The cartwheel scenes are amazingly adorable! The school posted other performances by the kids including Doki Doki Pretty Cure on their YouTube channel, too.