Using anything he can hit on a school desk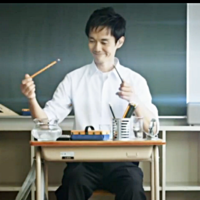 Following the 15-second CM, Media Factory has posted a 50-second extended version video clip for internationally-acclaimed drummer Akira Jimbo's drum/percussion play on a school desk for "Set Them Free," the ED theme for a 2014 winter TV anime Tonari no Seki-kun. Instead of a real drum set, the 54-year-old drummer in school uniform uses pencils as drum sticks, and hits metal pencil boxes, a fish tank, lunch box, beaker, stapler, anything on the desk. This tune is included in the forthcoming a compilation song CD "Tonari no Seki-kun: Uta no CD," which will be released on January 22. Check the "Set Them Free" clip and his real drum play below.
The Tonari no Seki-kunTV anime is now available to Crunchyroll's premium members worldwide ex Asia, and to Free members in the following territories: USA, Canada, UK, Ireland, Australia, New Zealand South Africa, Denmark, Finland, Iceland, the Netherlands, Norway, and Sweden.
"Set Them Free" 50-second ver.
"Amazing Drumming" by Akira Jimbo
His latest album "Crossover the World"
© AKIRA JIMBO