Japanese Karaoke vendor ranked top AniSong sung at karaoke in Japan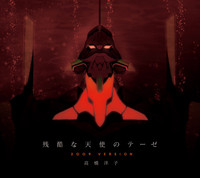 Joysound, a Japanese karaoke system provider revealed the annual rankings for Anisong tracks that were sung the most at Joysound karaoke outlets throughout Japan. The data was collected from both Joysound and UGA series systems between January 1st to December 31st of 2013, and not surprisingly the same song landed at the top for the 7th year, while a new song released in 2013 came in second. Here is the top 10 karaoke ranking in the anime/game/Tokusatsu category of 2013.
#1. Zankoku na Tenshi no Thesis - Neon Genesis Evangelion
Performed by Yoko Takahashi
(C)GAINAX・カラー
#2. Guren No Yumiya - Attack On Titan
Performed by Linked Horizon
#3. Lion - Macross F
Performed by Sheryl Nome (May'n) & Ranka Lee (Megumi Nakajima)
#4. Kimi No Shiranai Monogatari - Bakemonogatari
Perfromed by supercell
#5. Uso - Fullmetal Alchemist
Performed by SID
#6. only my railgun - A Certain Scientific Railgun
Performed by flipSide
#7. God knows... - The Melancholy of Haruhi Suzumiya
Performed by Haruhi Suzumiya (Aya Hirano)
#8. Sousei No Aquarion - Genesis of Aquarion
Performed by AKINO
#9. MajiLOVE 1000% - Uta No Prince Sama
Performed by ST☆RISH
#10. Butter-Fly - Digimon Adventure
Performed by Koji Wada
Anisongs also did very well in the all-category karaoke rankings of 2013 as well. Zankokuna Tenshi No Thesis came in as the second most sung song following Memeshikute by Golden Bomber, which claimed the top of the 2013 Karaoke ranking. Guren No Yumiya landed at the 6th spot and Lion, the galactic diva duet came in 14th, supercell scored 16th place, SID's Uso came in 24th in the all-category rankings, while only my railgun, God Knows... and Sousei No Aquarion finished 27, 28 and 29th.
Did you see any songs you sing at karaoke or any song you would sing in particular? Is there any Anisong missing that deserves to be there? Come back tomorrow for the results of a new poll for Anisongs that Japanese people think are the new standards at karaoke parties.