The worst criminal in the galaxy meets the most wanted space pirate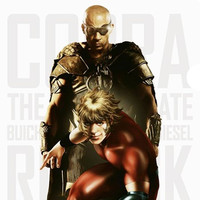 Riddick, the third installment in the The Chronicles of Riddick film series starring Vin Diesel, will finally be released in Japan on March 8 under the title of Riddick: Galaxy Battle six months later than the US release in September 2013. Buichi Terasawa's famous space pirate character Cobra collaborates with the film in the 4-page promotional flyer. According to the flyer, Riddick is known as the most brutal lone wolf in the galaxy, and Cobra is the most wanted space pirate in the galaxy, so the collaboration of the two seems logical.
By the way, the live-action adaptation film of Cobra titled Cobra: The Space Pirate was once announced by French film director Alexandre Aja (The Hills Have Eyes, Piranha 3D) in 2010 and a teaser poster was unveiled in the following year. Aja said that he wanted to release the film in summer of 2013, but the plan has not been realized yet.
Collaboration illustrations and manga for the flyer
Vin Diesel introduces the trailer for the Japanese fans
The teaser poster for the Cobra live-action film
Source: Cinema Today, "Riddick: Galaxy Battle" facebook page
(c) BUICHI TERASAWA / A-GIRL RIGHTS