Sexy age-gap love-comedy madness joins Crunchyroll Manga!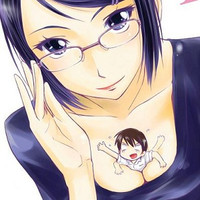 Following up the recent additions of Okitenemuru and Star Light Woman, Crunchyroll Manga now adds Comic High! romantic comedy Is This Girl for Real?! starting at 4PM PST today (that's right now!), available for Crunchyroll members WORLDWIDE (except Japan). What's it about, you ask?
Jun Yoshikawa is a boy with a manga artist for a mom. One night, he gets in a situation with a drunk stranger, Narumi Kawase, and decides to look after her. She becomes a live-in assistant at the Yoshikawa household as Jun takes care of her. This is an age-gap comedy about a pre-thirties, unfortunate beauty with no skills nor a job, and a perfect high schooler who helps out his mom and does the household chores as they live together.
It's funny, it's kinda naughty, it's kinda sweet: Is this Girl for Real?! will be updated every month on the 22nd, in accordance with its Japanese publication date. The latest chapter is available now, and previous chapters will be available on Crunchyroll at a later date--we'll be sure to keep you updated on this.
Who here's gonna be adding Is this Girl for Real?! to their regular reading list?