The 3rd and last album "Thank you" will be released on February 26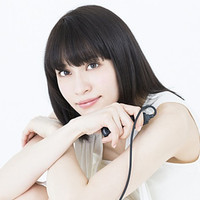 The CD jacket photo for "Thank You," anime voice actress/singer Megumi Nakajima's last album before indefinite hiatus from her musical activities is revealed today. As reported, the 24-year-old voice actress who is best known for her voice works for Ranka Lee and her character songs in Macross Frontier will stop working as a solo singer as of March 31. She said in the press release that she wanted to reconsider her future in a neutral state.
Her third and last album as a singer Megumi Nakajima, "Thank You," and last live Blu-ray "5th Anniversary Year's Final Live 'Megumi Night Fever'" will be released simultaneously on February 26. The 12-song album includes her seventh single "Marble" (Lagrange: The Flower of Rin-ne Second Season OP), eighth single "Sonna Koto Ura no Mata Urabanashi Desho?" (Kotoura-san OP), and ninth single "Arigatou" (Tamayura: More Aggressive ED). Please check the PVs below. Her last concert is
scheduled to be held at Nihon Seinenkan on March 20. The hall is the place where she made her stage
debut for the "Macross 25th Anniversary Live ~MINMAY meets FIRE BOMBER~" event on August 18, 2007.
On the other hand, she will continue working as an anime voice actress. She will voice the protagonist
character Megumi Aino/Cure Lovely in the upcoming TV anime Happinesscharge PreCure!, the 11th installment
of Toei Animation's long-running PreCure TV series. And probably she will also sing Cure Lovely's character
songs for the anime like the previous PreCure voice actresses.
3rd album "Thank You" CD jacket
"5th Anniversary Year's Final Live 'Megumi Night Fever'" BD jacket
7th single "Marble" (August 1, 2012)
8th single "Sonna Koto Ura no Mata Urabanashi Desho?" (January 23, 2013)
9th single "Arigatou" (August 7, 2013)
1st album "I Love You" (June 9, 2010)
2nd album "Be With You" (March 7, 2012)
Source: BARKS
© stardust promotion, inc