The 208-page art book hits stores on February 12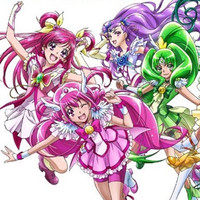 Japanese publisher Ichijinsha will release a new art book "Kawamura Toshie Toei Animation PreCure Works" on February 12. The book features the works of Toshie Kawamura, who has worked as the character designer/animation director for Toei Animation's long-running PreCure series.
It contains her promotional illustrations for posters and magazines, DVD cover illustrations, key arts, character references (including early sketches) for Yes! PreCure5 (2006-2007), Yes! PreCure 5 GoGo! (2007-2008), Smile PreCure! (2012-2013), the PreCure All Stars film series (2009-2011), and her latest interview. The cover illustrations newly drawn by Kawamura herself are revealed today. The 208-page book is priced at 2,600 yen (about US$24.86).
The front
The back
One of the early ads
---
Tosie Kawamura worked in (TV anime):
Futari wa PreCure (2004-2005) - episode animation director
Futari wa PreCure Max Heart (2005-2006) - episode animation director
Futari wa PreCure Splash Star (2006-2007) - episode animation director
Yes! PreCure 5 (2007-2008) - character designer & episode animation director
Yes! PreCure 5 GoGo! (2008-2009) - character designer & episode animation director
Fresh PreCure! (2009-2010) - episode animation director
Heartcatch PreCure! (2010-2011) - episode animation director
Suite PreCure♪ (2011-2012) - episode animation director
Smile PreCure! (2012-2013) - character designer & episode animation director
© ABC/Toei Animation