The voice of Ritsu Tainaka in the K-ON! anime series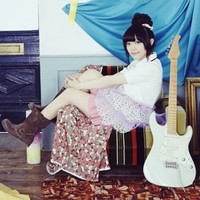 As reported, popular anime voice actress Satomi Sato will release her first solo single "Mirai Night" in Japan on February 26. The song is now featured as the ED theme for the second season of Seitokai Yakuindomo TV anime, in which she also voices one of the heroine characters, Aria Shichijyo.
The jacket photos for the CD single are revealed to Japanese media. She said at the Tokyo event last December that she was practicing playing guitar very hard and wanted to hold a live concert. Following her comments, the photos are featuring guitars and amplifiers. She is best known for her voice works for Ritsu Tainaka in the K-ON! anime series and the last member of Houkago Tea Time who makes a solo debut.
Limited Edition
Regular edition
Satomi Sato artist photo
2014 New Year Greetings Photo via Satomi Sato Project's official Twitter account
Source: Billboard Japan
© King Record.Co.,Ltd.