The 3rd single "Goya no Machiawase" hits stores tomorrow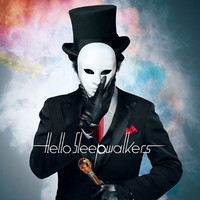 Following the 15-second CM posted last week, five-member Japanese rock band Hello Sleepwalkers finally revealed a full version promotional video for their third single "Goya no Machiawase" (Midnight Rendezvous) at 00:00 am on January 27. The song is now featured as the OP theme for the 2014 winter TV anime Noragami.
The band was formed in Okinawa in 2008 and made their professional debut with first album "Majiruyoru:Nemuranaiwakusei" (Mingled Night:Sleepless Planet) in January 2012. The one-song third CD single will be released tomorrow on January 29 at the price of 500 yen (about US$4.87) with a Noragmi wide cap sticker. The band will also release their second album "Masked Monkey Awakening" on February 19.
"Goya no Machiawase" PV
15-second TV CM
The CD jacket
Artist photo
"Getsumen Hokou" (Moon Walk) from the 1st album
Source: BARKS
© A-Sketch Inc.