The first TV series featuring Leiji Matsumoto's famous outlaw hero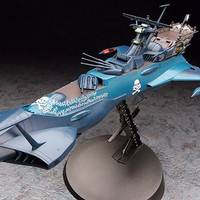 On February 14, Hasegawa Corporation will release a 1/1500 scale plastic model kit of Space Pirate Battleship Arcadia Second Ship from the 1978 TV anime series Space Pirate Captain Harlock based on Leiji Matsumoto's popular manga of the same name. The biggest difference with the later versions of the ship is its fighter-like bow, while the "Third Ship" appeared in the 1979 film Galaxy Express 999 and 1982 film Arcadia of My Youth had a skull-shaped one (see the pics below).
The box art is newly drawn by Naoyuki Kato, who is well known for his illustration works for the Japanese covers of Robert A. Heinlein's Sci-Fi novel Starship Troopers, featuring the powered armor exoskeletons which were believed to inspire the mobile suits in the Mobile Suit Gundam series later. The price for the 31.3cm kit is 5,040 yen (about US$49.67).
Arcadia Third Ship by Hasegawa released in November 2012
Source: Game Watch
© Leiji Matsumoto/Toei Animation