The protagonist who has the memories of two previous lives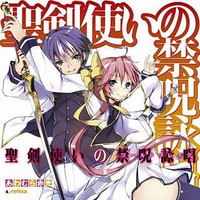 It is officially confirmed today that an anime adaptation of Akamitsu Awamura's Seiken Tsukai no World Break light novel series is in the works. The news will be also announced on the wraparound jacket band for the sixth volume of the novel released on February 17. The first volume of the school fantasy action novel series illustrated by refeia was published by Softbank Creative's light novel imprint GA Bunko on November 15, 2012. The manga adaptation is scheduled to be serialized in Kadokawa Shoten's Monthly Comp-Ace soon.
The story sets in Akane Gakuen, a private high school for young students called "Savior" who have the memory of their previous life. With various magical powers, only they can destroy mysterious monsters named "Itansha (heretics)" coming from nowhere. A new transfer student Moroha Haimura is the only "Savior" who has the memories of two previous lives. He meets two girls at the chool, Satsuki Ranjyo
and Shizuno Urushibara. Moroha was tied with the both girls deeply in each previous lives. Satsuki
(red hair girl) was his sister and Shizuno (dark hair) was his wife in their past.
Volume 1 cover
Volume 2 cover
Volume 3 cover
Volume 4 cover
Volume 5 cover
Volume 6 cover
Source: Akiba Blog [NSFW]
© SB Creative Corp.
© Akamitsu Awamura Illustration:refeia