Both available today for Premium members, Free members get 3/eps weekly of Chuunibyou Season 1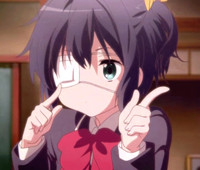 Great news today in the land of Crunchyroll as more Squid Girl has been added in the form of 2 OVA episodes. The two episodes are available immediately for Premium members, while Free users will be able to watch them starting on February 19th at 4PM PST. This one's going to be open to everyone except for members in Asia.
Synopsis:
With the environment ever deteriorating on a global scale, rage of those who suffer the most is about to erupt. Take this girl, for example. She is hell-bent on annihilating the mankind before her species is wiped off the surface of the earth, or, to be precise, off the bottom of the ocean. As she sets out on her vengeful journey, however, she becomes aware of certain limitations. She's nothing but a squid out of water…
Following that addition, we've also got the first season of Love, Chunibyo & Other Delusions, with Premium members in the US and Canada only getting the whole series starting at 5PM PST, while Free members in both countries will get access to 3 episodes on a weekly basis also starting today
.
Synopsis:
Yuta Togashi has a problem. He used to be a "chunibyo," one of the thousands of Japanese students so desperate to stand out that they've literally convinced themselves that they have secret knowledge and hidden powers. But now that he's starting high school, he's determined to put aside his delusions and face life head on. The trouble is Rikka Takanashi, his upstairs neighbor, is just a little bit delusional herself. And she knows all about his past indiscretions. Yuta thought his delusions were all behind him. Now he's not so sure. "Crazy in love" gets a whole new meaning as fantasy worlds collide!
Enjoy these titles everyone. I'm personally excited for more Squid Girl and getting to see the first season of Chu2Koi now. What doess everyone think of these additions?