Did you catch the latest "Wooser" episode?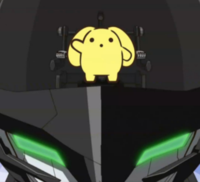 It's been a while since the second season of the anime,Gargantia on the Verdurous Planet was announced, but we still don't know if Chamber, the pilot support and interface system that some of us wish to install on our smartphones will be appearing again.
For those of us who miss the speaking mecha with Tomokazu Sugita's voice, he recently made a cameo appearance in episode 6 of Wooser's Hand-to-Mouth Life: Awakening Arc and the Wooser anime official site is giving away a new wallpaper featuring Chamber and the yellow creature together for a limited time.
©オケアノス/「翠星のガルガンティア」製作委員会
The exclusive illustration was done by Makoto Ishiwatari at Nitro+. You may want to hurry since the download links (1920x1080px, 1600x1200px, 1280x800px) are only available till February 18th, 23:59 Japan time.
©TRIGGER・中島かずき/キルラキル製作委員会
(C)御巫桃也/一迅社・カーニヴァル製作委員会
The Wooser anime often borrows characters from other anime and some familiar guests in Awakening Arc include Senketsu from Kill la Kill and Nyanperona and Tsukumo from Karneval, for example.
© Joe international
Wooser also has a new line of fashion items in a new collaboration with the galaxxxy brand and one of the most recent items introduced are these adorable mini-earrings. Unfortunately, Darth Wooser and the regular Wooser earrings in yellow are already sold out.
© Project wooser2