Plus Super Sonico and Sena from "Haganai" in bikinis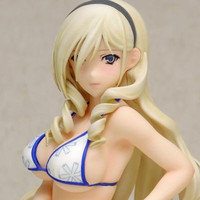 If you're a fan of anime girls in tiny bathing suits, then Wave's Beach Queens line of figures is just the thing for you. Now there are three more girls in their collection: repainted Saber Extra has her sparkle going on, Celia Cumani Aintree from Walkure Romanze is having some trouble with her bikini bottom and Caster Extra is about to bottom out of that top.
They're all due out in late September, though their prices range from 3,950 yen (Saber) to 5,030 yen (Caster).
In other girls in bikinis news, Orchid Seed's 1/5 scale Berry Super Sonico is up for pre-order. She's due out in June for 10,030 yen.
Gift's Sena is busting out of her 1/4 scale figure, also due out in June. She costs 10,580 yen.
Via Plastikitty
-------
Amanda Rush is the Associate Editor for Ani.Me. You can pester her on Twitter or My Figure Collection.